Simpson Capstan Rope Winch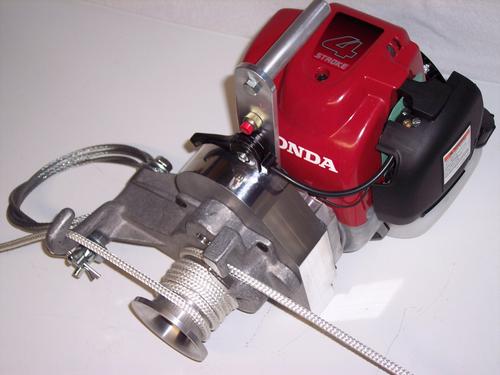 Simpson Capstan Rope Winch is available in two models, either powered by a lightweight gas engine or attaches to most chainsaws. It pulls up to 2,500 lbs. It's excellent for pulling big game animals, boats, and for winching stuck vehicles out of extreme locations.
You can pull loads long distances without overheating the motor or experiencing loss of pulling power. Rope is safer than cable if it breaks or snaps back.
The capstan type winch is unique, you're not limited to the length of cable that a drum will hold and the pulling power does not decrease as the drum fills as is the case with drum type winches. You can take up slack in the winch line or play out line, by hand, without running the winch.
Model SP comes with a 3 cubic inch motor. Can easily mount to a rigid pack frame. Capacity of 2000 lbs.
Model SP with Honda, weight is 18 pounds.
SP-CW WINCH NOW AVAILABLE WITH HONDA ENGINES.